Taking notice
At least once a week, every East Side grade-level teaching team sits down with the principal or an assistant principal for a full period of "kid talk." That regular meeting serves not just "to make sure no kids fall through the cracks," said Ms. Dolgin, "but even more to make sure that all kids are getting exactly what they need."
In the fall, for example, her grade 12 team spent a lot of time thinking about "kids who were doing fine but could be doing better," Ms. Dolgin said. "Who is maybe slacking? What could we do to get them excited? What push do they need?" By spring, the team was keeping a close eye on seniors who still needed to revise their all-important performance based assessment tasks to meet school standards. Whatever the plan to engage an adolescent in a challenge, it emphasizes the positive: a private student-teacher conversation to plan next steps, a call to parents from the principal reporting how much better things are going.
Principal Mark Federman's "less is more" decision to prioritize small class size instead of a wider curriculum has allowed teachers to know students better. In what she called their "make-or-break year" academically, history teacher Yolanda Betances found that her tenth graders were often distracted by social matters. Individual attention was "key to making them feel a sense of belonging and also feel connected to the class and the content," she said. "Here we're gonna notice you for sure."
Forming the ties that bind
"For me, it's those small things, either us opening up to the teachers or the teachers opening up to us, that really make a huge difference," remarked a student named Bryan. "Like calling a teacher by their first name. I think we form more of a stronger bond that way. And they're willing to talk about their lives and open up to students."
Whether the subject is relationships or planning for college, the advisory group takes the lead in building that kind of trust during a student's years at East Side. Meeting briefly each morning and twice weekly for a longer period, each group of twelve to fifteen students stays with an adult adviser for a year, then reconfigures.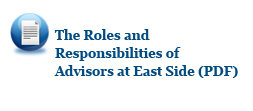 Advisers have considerable leeway, but all follow a common framework emphasizing development in five areas: work habits, mutual respect, health and healthy relationships, the college path, and connections between advisers and their advisees. In addition, the adviser acts as point person for communicating with family, monitoring attendance and academic progress. The adviser's role explicitly includes connecting students with extracurricular opportunities and helping them make a productive plan for the summer.
Teachers on a grade-level team often plan together. "We look at the calendar for the year, and decide on core things that we as a team are going to do," said Ms. Betances, whose tenth graders were about to use advisory time to collect samples from city waterways for use in their chemistry portfolio project. Eighth-grade advisers collaborate to develop positive work habits in a series of targeted workshops such as "What's Happening with Your Book Bag?" (on staying organized).
Starting as early as sixth grade, East Side advisories visit college campuses to increase awareness of what opportunities lie ahead. Research shows that students talk and listen more to their teachers about post-secondary planning than they do to counseling staff, and advisers keep up that conversation from middle through high school, supplementing the school's college counselor's role.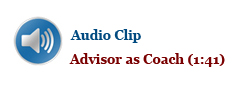 However, the most important role of adviser, said teacher Jen McLaughlin, involves "a way of being": support and advocacy from an adult who keeps a close eye on the "temperature" of advisees as well as their interests, needs, and growing ability to plan and regulate their own lives. "It's a way of really walking through the entire educational and socio-emotional experience with every child," she reflected.
The adviser takes a lead role in drawing families into their children's lives at school. Five times yearly parents and guardians join in a three-way conference with student and adviser to review progress and revisit goals. Advisers use email and text messaging to keep families in the loop about out-of-school opportunities as well. "There's always someone who's willing to speak with my parents in Spanish and take their time to explain things," said Bryan, in twelfth grade. That sends a huge message to my parents." Josh, who divides his home life between parents, said simply, "This is somewhere that my family feels comfortable . . . a really nice environment that you always wanna come back to."