Social and emotional safety
"Can I catch a nap?" a lanky, bleary-eyed youth asked, sticking his head into the office of Fenger's school psychologist, Alejandra Argerich. "Of course," Argerich said, rising to show him into a small, secluded room a few steps away. "Just check in with me before you go back to class." It wasn't the first time this young man had sought the quiet and safety of the school's mental health quarters, Argerich explained. Where he lives, domestic violence often rocks the night; some days he just can't stay awake in class. "It is better that he come here and replenish for an hour than struggle through the whole day, exhausted."
At Fenger High School, restorative practices go beyond embracing positive alternatives to zero tolerance, however vital these are to creating a culture of calm. In a community where poverty and violence have made harm and loss a norm, helping students feel safe has a profound psychological component.
Asked what they like best about Fenger, students point to that deep support system and the sense of an arm always around them. Vada, a senior on her way to college, explained:
Folks say, "Wow, you go to Fenger. Isn't that dangerous?" I tell them I feel safer here than anywhere else. What makes it safe? It isn't just security and metal detectors and all that stuff, but the supports you get. The staff, they always have your back, wondering how you're doing, asking if you need to talk. It's the relationships that give the student comfort. You build trust. And when there's trust, there's safety.
Developing such trust and connections—often when they have been badly broken—stands at the heart of the work by Argerich and her colleagues (two social workers and five counselors). A local headline framed it as a "public health approach to violence," when the federal government granted Fenger an emergency $500,000 after student Derrion Albert famously met his death when gang violence overtook him on his walk home from school in 2009.
Triage
Hiring in-school mental health clinicians has been central to this approach. However, social and emotional triage at Fenger begins in the classroom. Teachers do the best they can to engage students for whom anger, depression, and isolation leaves them chronically on edge or underwater.
Sometimes the triage starts in the halls. When anger or conflict reaches a tipping point, the school's security guards, trained in de-escalating student emotions when they become raw, are the first to respond. "The students who are hurtin' and quiet, they don't come up on my radar screen," said Keith Connor, head of security at Femger. "The ones that are hurtin' and angry, we know them pretty well." During passing between classes, the dean keeps an eye out for students who are on edge and engages them in conversation so that he can take their emotional temperature.
At weekly meetings, the school's CARE team reviews the cases of individual students, identifying those who m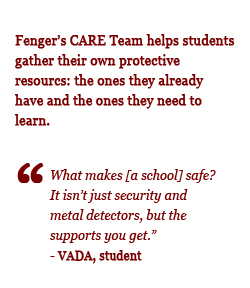 ight benefit from group therapy and other intensive supports. Often, students seek out that help on their own, an informal indicator of the emotional safety they are feeling. "It tells us how we're doing planting trust," said Tosha Jackson, the assistant principal who supervises the CARE team.
The philosophy that guides Fenger's mental health work with students is straightforward. "We will reach out to you," said Argerich. "We're not going to tell you what to do, but we're going to try to help you find out what you need and go from there. You're going to teach us things and we're going to do the same for you."
For its anger therapy groups, Fenger's mental health staff relies on the evidence-based Think First program. For trauma, it calls upon the Cognitive Behavioral Intervention for Trauma in Schools (CBITS) program. CBITS uses cognitive-behavioral techniques (e.g., social problem solving and cognitive restructuring) to reduce symptoms of post-traumatic stress disorder, depression, and behavioral problems in adolescents.
Many students, such as those who suffer a death in the family, struggle emotionally yet do not fit the anger or trauma group profile. A coping skills group helps them get past their reluctance to share their feelings, using a curriculum the schoool's social worker tailored to match the needs of older and younger students.
Whatever the group, the goals are the same, Argerich said. "We help kids gather their own resources, to find the protective factors they may have but don't know they have—along with the ones they need to learn. And we try to build with them a network of support, here at the school, with friends, with a teacher. "
It is patient work, done in regular consultation with Fenger faculty and students' families. When students reach the end of one of the 12- to 15-week groups, they sometimes join the next. The clinical staff is on call as students individually check in at least once a week, whether they have "finalized" a group or not. "I'm not going to say it works every time," Argerich continued:
But with some kids, we have small success stories, of a student who figures out how to tamp his anger and not fight or the isolated student who pushes herself to join school activities. When a student doesn't give up, we consider that success too. Maybe in other communities, that's not enough. Here, it's a lot.