OAKLAND, CA — If you are a new student at Oakland International High School, there comes a point—after the district has tested your low English level, after your intake interview, after your long journey by city bus to the low-slung school building in the Temescal neighborhood—when you will find yourself alone and afraid in the Tower of Babel.
Maybe, like Mical, you can catch at least some of what people are saying. After fleeing Eritrea through Sudan, she spent six months in a displaced persons camp in Texas, where she picked up some Spanish but little English. Now she lives in Oakland with an older sister, working at Burger King to help with her keep. Her father died four years ago; for six years she has not seen or spoken with her mother in Eritrea, though she keeps hoping to find her somehow. When she started ninth grade at Oakland International four years ago, the weight of all she carried kept her silent.
"Some people, they just get shy and they don't want to talk to other people," Mical said, remembering that anxious time. "I know how it feels . . . maybe they won't like me."
Since its 2007 founding, Oakland International has been a point of entry into the city's schools for the newest of its teen-age immigrants, who come here from more than 30 countries and speak at least that many languages. Fully a third of the 330 students here are refugees from war-torn countries, and 25 percent come with little or no formal education.
Yet in the midst of their frustrating transition to a new language and culture, these young people are finding common ground and motivation to learn on the soccer field. With its cross-cultural appeal—played in over 200 countries by anyone with access to a ball, a patch of land, and a few sticks for goalposts—soccer has provided an ideal way for them to forge social and emotional bonds at the same time that they practice their new language.
An open door to inclusive play
Early in the school's history, a partnership with the nonprofit Soccer Without Borders sprang from the teaching of soccer in physical education class. Led by Ben Gucciardi, it grew like wildfire; roughly a third of all students here now take part, playing on various teams that compete in Oakland and its surrounds.
However, the program goes far beyond athletic competition. It encompasses youth development and leadership as well as academic monitoring, intervention, and support. "My soccer program, they always support me, everywhere," said Ravis, a student from Democratic Republic of the Congo. "My personal life, on the field, acade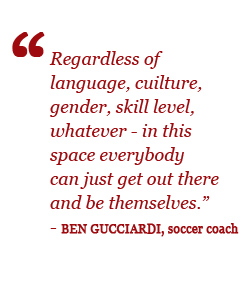 mically—they're always there for me."
First priority, Mr. Gucciardi emphasized, goes to establishing an open-door culture of inclusion and acceptance. "Regardless of language, culture, ethnic identity, gender, sexual orientation, skill level, whatever—in this space everybody can get out there and just be themselves, and get encouragement and positive reinforcement," he said. "It's okay to be competitive," he added, cheerfully acknowledging the rivalries of older adolescent boys in particular.
Unlike the boys who take part in the program, for cultural reasons almost none of the girls at Oakland International have played soccer before. Leya, an older student from Eritrea who had recently enrolled at the school, stepped onto the field in boots one afternoon at the invitation of some other girls. Before long, she was happily lacing on some athletic shoes from the storage locker and encouraging a younger girl from her country to join the fun despite her father's disapproval. ("It's just exercises," others coaxed, to no avail.)
Simply to enjoy "silly, goofy, physical fun" out on the playing field, noted Mr. Gucciardi, "is such a leap in terms of societal gender roles" for many young women. Katie Nagy, one of two female coaches for the program's girls teams, agreed. "It takes some convincing," she said. "We talk to their families and provide a different perspective on what the sport can do for their daughters in life."