Inner City Ice: Positive Disruption
WKCD| FEB. 10, 2014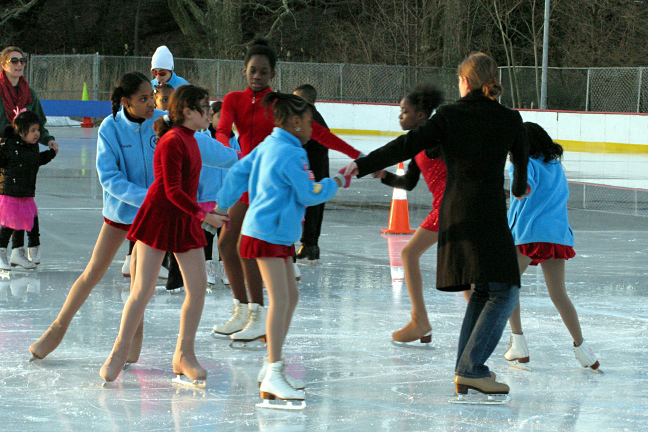 It's not just the snow and ice that encases the Winter Olympics in white. It's the athletes, too. For 90 years, the Winter Olympics have been a mostly exclusionary event for black athletes, with rare exception. In 1980, American bobsledders Willie Davenport and Jeff Gadley became the first black men to compete in a Winter Olympics. Eight years later, in Calgary, ice skater Debi Thomas, a Stanford University student, became the first black Winter Olympian to win a medal, bringing home the bronze.
The 2014 Sochi Olympics features Shani Davis, a 31-year-old speed-skating veteran looking to defend his Vancouver Gold Medal in the 1,000 meter race. He hopes to become the first male Olympian to win the same individual event in three successive Winter Games, since a Swedish figure skater in 1928. There are five African-American women on the six-woman U.S. bobsled team; for the first time in Olympic history, black athletes have moved to the front of the sled. Track star Lolo Jones, who lost her lead in the 2008 Summer Olympics after stumbling over the next-to-last hurdle in a race, is a member of the bobsled team.
Although a record 19 black athletes are competing in Sochi, they make up .06 percent of the 2,850 competitors from 88 countries.
The factors that make the Winter Olympics so white are predictable, with access and cost topping the list. Learning and getting really good at one of the Alpine sports requires easy access to mountains with reliable snow (which is why so many competitive skiers live near the Rocky Mountains or the Sierras in North America, or the Alps or Caucauses in Europe). Figure and speed skating demand indoor rinks that are open year round and that offer private skating time. An outdoor public rink just doesn't cut the ice. With hockey, it is hard to gain prowess with the puck if your school doesn't have a hockey team; most American public schools don't.
Even if access were not an issue, expense is: the cost of equipment, lessons, gas (and sometimes lodging), and lift tickets or rink time is formidable. As a young person becomes more serious and proficient at the sport they have chosen, the costlier these items become: fancier equipment, more lessons, more competitions further away from home and the attendant travel expenses, more rink or slope time. The average cost of rink time, required when a skater takes private lessons, averages $10 for 30 minutes; a 20-minute private lesson typically adds $20 to $30. A season's pass for teenagers at a challenging U.S. ski resort averaged $750 in 2013-2014.
A Google search of winter sports programs for "inner city youth" resembles a bare ski resort.
There are two bright spots, however, in this largely uniform narrative: one in Brooklyn and the other in Harlem.
Brooklyn Ice
On this cold Saturday in February, the outdoor rink in Brooklyn's Prospect Park comes alive as a group of young skaters cross hands and glide backwards in a line, then break apart to spin and dance. Marvin Gaye's "There Ain't No Mountain High Enough" fills the air, interspersed with claps and shouts of "You go girl!"
The 15 or so young athletes, mosty between the ages of 8 and 12, are "advanced" skaters, having achieved the US Figure Skating Federation's Basic Skills Level 5 or above. They know how to skate backwards in a circle, on both an inside and an outside edge, how to do a one foot spin with three revolutions, how to do a toe hop, and more. Now they are learning to put those moves together, as a team, in a choreographed program they will perform next month. They wear their identity on blue fleece jackets: Brooklyn Ice.
"All the problems I have disappear when I'm on the ice, and when I skate I feel free," says Valerie, wise beyond her years.
"Whenever I fall, the teacher just starts clapping because they know I'd tried," her friend Raven adds. "It really makes you feel good inside."
Started in 2004 by Violet Egan, a U.S. figure skating gold medalist and experienced coach, Brooklyn Ice is a free afterschool skating program for children in Brooklyn, New York. Through use of the club format and annual re-enrollment, Brooklyn Ice brings together a diverse group of children in a structure that promotes physical training, teamwork, and commitment. It makes figure skating more accessible and affordable to children living near Prospect Park.
From November through March of each year, the young skaters take two after school lessons a week. Other days, they practice on their own. Close to 200 children, recruited from nearby elementary and middle schools, signed up for this year's program—many more than could be accommodated. All share a common denominator: they dream of becoming figure skaters and they receive free or reduced lunch at school.
An off-ice program includes homework help, tutoring, off-ice training exercises (including Pilates), and special workshops on nutrition, wellness, and college preparation.
At last year's U.S. National Figure Skating Championships, Brooklyn Ice received special recognition for its work, including a check for $12,500.
"We don't really have much in Brooklyn," said Paquiana, a member of the syncrhonized skating team. "So it's really great to have our own ice rink and call it ours."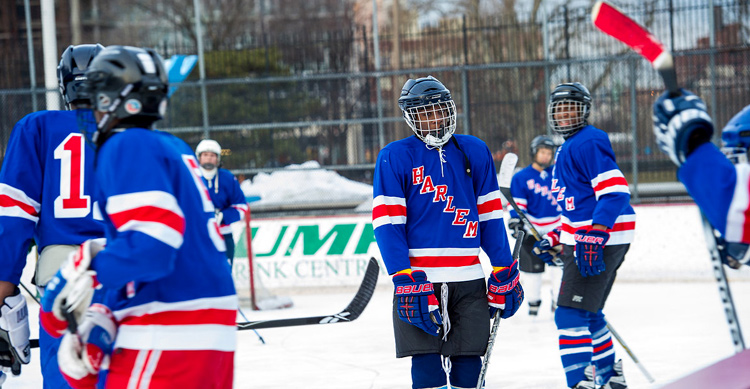 Ice Hockey in Harlem
"Ice Hockey in Harlem was an oxymoron when we began," wrote Dave Wilk, the founder of this one-of-a-kind skating program.
Wilk first had the idea while studying at the University of Pennsylvania. When given the essay question, "What if you had a year off and nothing to do?," he said he'd start a hockey program for inner-city youth. The next year (September 1987) he headed to Harlem and met up with a group of kids thick in a street hockey game.
When they told Wilk that they were interested in ice hockey, too, he scrounged up all the equipment he could find and started to work with 25 youth. Now, Ice Hockey in Harlem enrolls up to 225 kids a year. The program accepts applications from any boy or girl that lives north of 110th Street in Harlem and seems committed.
On-ice programming takes place four nights per week and Saturdays at Lasker Rink in Northern Central Park. Students spend a minimum of one and a half hours on the ice each week. The hockey program includes an introductory hockey program for beginners and advanced sessions by age groups as approved by USA Hockey.
Age-specific on-ice activities for students ages 4 to 17 include skills development and game setting scrimmages. Eventually students take part in intramural scrimmages, to begin gaining in-game experience, and then home and travel games against teams from the local New York City and Westchester community, New Jersey, Connecticut, and Long Island.
Devin Gonzalez, 17, has skated with Ice Hockey in Harlem (IHIH) for as long as he can remember. "Being on ice is like being in another world," Devin told USA Hockey. "It is the highlight of my day. I owe so much to Ice Hockey In Harlem — the opportunity to learn and play this sport was a gift."
Older players, like Devin Gonzalez, are required to attend weekly classroom sessions as a condition for participation in the hockey program. There they take up geography, history, and social studies, and skills in math, reading, and writing—using hockey as the central reference for study.
There's also a college readiness program and a book club.
"They not only coached on Fridays, but they also stayed around to read and discuss hockey books with us," Devin said. "We learned about the sport's history and even a fancy vocabulary."
In a sport that's been largely the exclusive domain of white athletes—in 2012, there were just 28 African-American players in the National Hockey League—Ice Hockey in Harlem is a postive but tiny disruption. It's no longer an oxymoron, though.
What Kids Can Do, Inc. | info@whatkidscando.org | www.whatkidscando.org
P.O. Box 603252 | Providence, RI 02906 | (401) 247-7665 phone | (401) 245-6428 fax
Copyright © 2014 What Kids Can Do, Inc.