In the "Conditions of Learning" research highlights, we underscored the importance of direct experience, focus, and intrinsic motivation in the learning process. We affirmed that learning is most effective when it is social, and that young people can be and want to be fully engaged learners.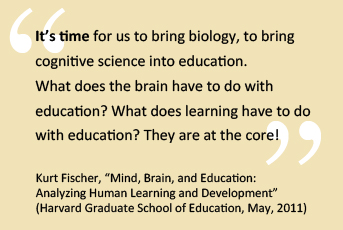 How can we begin to understand the way the brain works? The same way we begin to understand a city: by making a map. In this visually stunning talk, Allan Jones shows how his team is mapping which genes are turned on in each tiny region, and how it all connects up.
See also:

Edutopia: Brain-Based Learning
The latest neuroscience and cognitive research tells us why these conditions are so. Powerful brain imaging tools make it possible for us to see the learning brain in action. Paired with new genetics technology and a score of other advances, they have produced a new field: mind, brain, and education.
What are some of the most important insights in this new interdisciplinary field?
Plasticity
Arguably the most critical insight is that the brain is highly adaptive, a property called plasticity (Singer, 1995; Squire & Kandel, 2009). Plasticity, or neuroplasticity, describes how experiences reorganize neural pathways in the brain. Long-lasting functional changes in the brain occur as we adapt to the environments where we live and work and when we learn new things or memorize new information.
The brain's architecture includes networks of interconnecting nerve cells called neurons and supportive glial cells. Learning experiences are translated into electrical and chemical signals that gradually modify connections among neurons in certain areas of the brain. Marvin L. Minsky, one of the pioneers and most creative thinkers of artificial intelligence research, once quipped: "The principal activities of brains are making changes in themselves" (The Society of Mind, 1986).
Active engagement
Changes in neural connections, which are fundamental for learning to take place in the brain, do not seem to occur when learning experiences are passive. Many research studies suggest that active engagement is a prerequisite for changes in the brain: it strengthens the neuronal connections in the cortex that are thought to underlie learning (Ahissar et al. 1992; Recanzone et al. 1993; Recanzone & Wurtz 2000). Passively sitting in a classroom hearing a teacher lecture (even when combined with PowerPoint!) works against substantive or long-lasting learning.
Emotions
All learning has an emotional base, as Christina Hinton, Kurt L. Fischer, and Catherine Glennon point out in their recent summary of recent neuroscience research, "Mind, Brain, and Education" (2012, Students at the Center). They write:
Emotion acts as a rudder to guide learning. The brain uses emotion to tag experiences as either positive and worth approaching or as aversive and worth avoiding. When students encounter a situation, the brain quickly and automatically appraises it

(Frijda, 2006)

. The prefrontal cortex is the site of this appraisal, marking whether the situation brings positive or negative feelings

(Davidson & Fox, 1989)

. When events are positive, the left prefrontal cortex shows more activity, with higher-frequency brain waves. By contrast, when events are negative, activation in the prefrontal cortex occurs dominantly in the right.
The prefrontal cortex is also the seat of executive functioning, which involves goal setting, appropriately selecting learning strategies, monitoring progress, and assessing outcomes

(Fuster, 2008).

Since cognition and emotion are interrelated in the brain, individuals can cognitively regulate their emotions

(Luan Phan et al. 2005; Ochsner et al., 2004)

. Since the prefrontal cortex is still maturing in childhood and adolescence, students in primary and secondary school are still developing their emotional regulation skills

(Gabrieli, 2004; Luna & Sweeney, 2004)

.
Education can support this development, and this should be a priority as emotional regulation skills strongly predict academic achievement (

Hinton, Miyamoto, & della Chiesa, 2008; OECD, 2007)

. This is particularly important for students from underprivileged backgrounds: Recent research suggests that one of the main differences between disadvantaged students who succeed in school and those who do not is their ability to regulate emotions

(OECD, 2011)

.
Neuroscience evidence of the fundamental role of emotion in learning settles long-standing ideological debates about whether educators should be responsible for emotional development

(Hinton, Miyamoto, & della Chiesa, 2008

)

. If educators are involved in intellectual development, they are inherently involved in emotional development as well.
Individual differences
"Why do some students whiz through chemistry while others struggle?" ask Hinton and her colleagues. "Why do certain students show an uncommon resilience in the face of adversity? Why are some students passionate about literature and others drawn to mathematics?" Their answer: these variations are grounded in individual differences in the brain. These researchers explain:
Students are born with certain genetic tendencies. As they interact with the world around them, these experiences can reinforce or counteract their genetic inclinations differences

(e.g., Fischer & Bidell, 2006; Hinton & Fischer, 2011)

. For example, a student may have a genetic predisposition for shyness

(Arbelle et al., 2003)

, yet grow into a gregarious person despite that because of supportive social experiences at home, in school, or in the community.
Since genetics and experience interact to shape the brain, each student's brain is unique. Students have a collection of different abilities, and a student may struggle in one area, such as mathematics, and yet thrive in another, such as interpersonal intelligence

(Gardner, 1983

)

. Moreover, within each of these domains, students can have both talents and limitations. For example, in the musical domain, students who have perfect pitch typically struggle with transposing, which is singing a melody in a key that is different from the one it was written in. Mind, brain, and education research does not support the simplistic notion that each student is either intelligent or not; rather, it points to a more nuanced perspective that recognizes that each student has a complex profile of strengths and limitations.
Use it or lose it
The plasticity of the brain, as noted earlier, means that our brain lays down new neural connections—synapses—as we learn. But only those connections and synapses that are frequently activated are retained. Connections that are not consistently used will be pruned or discarded so that the active connections become stronger. Neurons, in short, must have a purpose to survive. Without a purpose, neurons wither, through a process called apoptosis in which neurons that do not receive or transmit information naturally die. In infancy and early adolescence, when the brain produces many more synapses than it can possibly use, this pruning produces a stronger and more complex brain. When valued connections are pruned as a result of disuse, however, they can be hard to restore.